For Molinel, supplying a high-quality product is far more than simply marketing a product that meets users' needs. Quality also entails manufacturing products in good 'environmental and social' conditions.
Over the past few years, Molinel has been engaged in a voluntary improvement scheme for sustainable development. Today, this forms an integral part of the company's values.
Consumer safety and Molinel's corporate social and environmental responsibility are our key concerns. Since 2006, the year Molinel first engaged in the pioneering programme for sustainable development, titled 'Fibre Citoyenne' (run by the Yamana NGO), a series of concrete measures have been taken. This scheme will be beneficial, especially as all stakeholders on the supply chain are set to lend their support too.
Our commitments
To meet the quality and sustainable development requirements of our customers.
To recycle our waste and protect the environment.
Raise awareness with our business partners about sustainable development.
Promote fair trade.
Ensure the well-being and safety of our employees.
Protect users.
Ensure compliance with work conditions.
Adopt a responsible purchasing policy and encourage our suppliers and subcontractors to commit to sustainable development.
Optimise logistics flows.
Evidence of our commitment
We were awarded the ISO 9001 certification in 2000.
We have been members of the Fibre Citoyenne 26000 programme since 2006.
We became Flo-Cert certified in 2009.
The Alsico France Group, to which MOLINEL belongs, signed the United Nations Global Compact in 2014.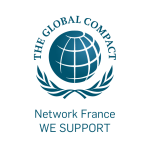 We guarantee that users of our clothing and the environment are protected by selecting Oekotex 100-certified raw materials.
In 2016, 98% of our fabrics were Oekotex certified.
By asking our suppliers and subcontractors to sign a sustainable development policy, we are encouraging them to commit to improving quality and their response to their environmental and social responsibilities.
Our office papers and ink cartridges are collected by a company that employs people currently in social rehabilitation.
We reuse boxes from the manufacturing plants. Obsolete boxes are collected and recycled by an external partner.
We select carriers that use eco-driving-trained drivers.
We limit air transport wherever possible and optimise the filling of containers.
We pay close attention to outgoing batches from our manufacturing plants.


If we all play a part, this initiative will have even more purpose.
Let's embark on this journey together!