For Key Account customers, MOLINEL has developed a method founded on its expertise and reliability.
This five-step method enables Molinel to provide a comprehensive solution using its various areas of expertise to ensure the success of each and every image clothing programme.
From studying the requirements to achieving the final result, projects of Key Accounts customers will materialise and take shape…
LISTENING
This first stage is decisive, it aims to analyse the jobs and define your needs in terms of image and protection.
We invite you to join us in an analysis of your needs in:
– Marketing objectives
– Your company structures
– Managing your institutional image (logo)
– Identifying and auditing the jobs, their specificities and protection requirements
– Analysing existing cloakrooms
– Logistic organisation
– Time periods and retro-planning
2. Imagining
The solutions are always unique and contemporary, a successful compromise between style and practicality.
Following an initial audit, Molinel draws up a strategy of jobs/product specifications.
We ensure feedback by organising round tables with users.
The in-house design bureau will hand you a complete dossier of style trends.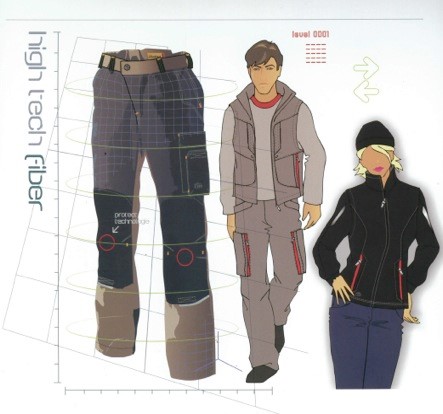 3. Designing
Molinel produces prototypes of your programme, then draws up the technical specifications to mark the study phase for the development stage.
The engineering and design division validates the technical options:
Sewing diagrams, measurements, dimensioning, measurement grid, placement, basic control sheet.
4. Manufacturing
We specialise in industrial textile techniques and ensure optimal industrial manufacture of your clothing image with consistent quality and cost control.
Molinel is able to draw up an extremely competitive proposition due to globalised in-house production.
5. Distributing
Logistics at the service of the customer/user.
Through its experience, Molinel has been able to integrate the whole of the logistics process which is essential for your requirements: we can equip each one of your employees with the specific clothing for his job and size, from his workplace and within a given time.
Here again, we can offer you personal organisation and co-ordinate all the necessary operations using reliable procedures: size measurements, order allocation, stock control, processed deliveries and industrial maintenance.
The MOLINEL Image Department for Key Accounts has developed specific know-how that is unique to its market in order to fully meet customer's needs. This know-how is managed internally, and allows the information processing, order taking to delivery chain to be monitored from start to finish in an integrated manner.
MOLINEL has a reputation for expertise in PPE with numerous key accounts across France. MOLINEL's knowledge of regulatory obligations and requirements ensures that its protective clothing programmes comply with European legislation.