PERSONALISE YOUR WORKWEAR
The perfect solution for rapidly personalising your professional garments.
The concept : Molinel can enable you to rapidly personalise your professional garments by applying coloured and retro-reflective bands.
Molinel has a very wide choice at your disposal.

Strips of fabric:
– 13 colours,
– 2 widths
– polyester and cotton (weight 245gr) for perfect colour fastness
Retro-reflective bands:
– Silver-grey
– 2 widths (30 and 50 mm)
– Certified quality EN 471
The advantages: with Chronobande you can select your professional clothing according to your own colour codes, choosing from the ranges in our catalogue.
Order fulfilment lead time is 10 days* (*10 working days from validation of your order)
Chronobande ensures even greater safety from Molinel, with retro-reflective bands for greater visibility in bad light.

Information from Molinel: adding retro-reflective bands improves the user's safety. It does not create a garment that complies with the EN 471 standard.
HOW IT WORKS > Select the 'Chronobande' compatible products catalogue and build your outfit.
CHOOSE FROM THE OPTIONS AVAILABLE AND TICK THE BOX TO SELECT:
THE LOCATION > sleeve, body and/or right/left leg bands, armbands and/or wrist bands, front and/or back bands.
THE QUANTITY > single or double
MATERIAL > coloured fabric (specify the colour code) or retroreflective material.
BAND WIDTH > 10 mm, 30 mm, 50 mm*.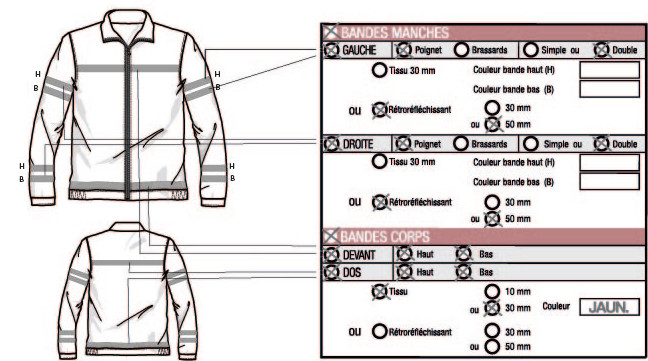 *50-mm width only available for retroreflective bands
*Only one single band may be placed at the top of the sleeve.
*Bands cannot be placed on the bottom of the jacket. For clothing: – 1507 3291 – 1507 2351 – 1538 0261